"You won't know what you shot until you develop the film. Mysterious!"

— Gift description, Tomodachi Life
This page or section is currently under construction.
Please help us

expand

this article by editing it. Feel free to discuss this cleanup on this article's talk page.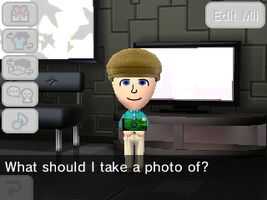 The Disposable Camera (or just Camera in Tomodachi Collection) is a gift/good that the player can give a Mii, whether or not he/she asks for it. The player can let the Mii take a picture of either "Someone We Know" or "Something Artsy" ("Someone We Know" not available in Tomodachi Collection). After viewing the picture, which the player can save, the Mii will give the picture a random title. The player can then rate the Mii's photo, in which the Mii may comment on the player's rating. (e.g. 10 out of 10 "I can rule the world with this kind of talent!")
Some photos will contain a certain Mii for some photos. If the Mii whose photo was taken has a best friend, then those two will be seen in a photo (One in the distant, another pretending to stomp on them) if they have an ex-girlfriend/boyfriend and one has another lover, you can see the Mii with their new sweetheart/spouse in the cafe enjoying their day while the other Mii is seen outside the window looking heartbroken.
Possible Photo Titles (Tomodachi Collection)
Dream
Eternity
FoodChain
Glitter
Heart&Soul
Holy One
Home Town
Laughter
Life
Lonely One
Mindful
Miracle❤️
Parental❤️
Passion
Pure Heart
Soul
Teenage
The Earth
TheLight
Time Flow
Universe
Warmth
Possible Photo Titles (Tomodachi Life)
A Funny Thing Happened
Bad Manners
Before the Fight
Best Forgotten
Birthday Bear
Center of the Universe
Childhood Friend
Discovery of a Lifetime
Distant Daddy
Dreams of Sleeplessness
Dreamy Love Forever
Family Ties
Fateful Encounter
Forget All your Worries
Forgotten Poem
Fountain of Love
Genuine Smile
Good-Bye, [Food]
Lazy Daisy Days
Life
Life's Bookmark
Little White Lies
Love Letter
Loyalty
Mother Nature's Fury
Never Again
New Hope
Shady Sunning
Springtime Meanie
Subtle Sadness
Surrounded by Sadness
Sweet Desperation
The Great Catsby
The Legend of October
Tomorrow's News Today
Unexpected Glory
Unhappy Prediction
Unsmiling Mother
You
Artistic Photos
Collection
Life
Islander Photos
Life
Ad blocker interference detected!
Wikia is a free-to-use site that makes money from advertising. We have a modified experience for viewers using ad blockers

Wikia is not accessible if you've made further modifications. Remove the custom ad blocker rule(s) and the page will load as expected.