English Lesson
Europe Name
N/A

Japanese Name
English Lesson

Location
Fountain

Event Time
3:00 p.m. - 4:00 p.m.

7:00 p.m. - 8:00 p.m.


How to Unlock
Have a Mii ask about donating funds to the island
English Lesson is an event in
Tomodachi Collection
. It takes place at the
fountain
. The Miis speak English in this event. One Mii asks the other Mii's name, then the other Mii says out his/her full name. The event ends with the first Mii saying "Okay, very good!", the other replying "Thank you!", and 2 random sat-down Miis clapping.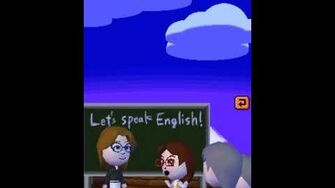 Ad blocker interference detected!
Wikia is a free-to-use site that makes money from advertising. We have a modified experience for viewers using ad blockers

Wikia is not accessible if you've made further modifications. Remove the custom ad blocker rule(s) and the page will load as expected.