"Cook up something tasty with this heavy, nonstick frying pan."

— Gift description, Tomodachi Life

A frying pan is a gift/good in Tomodachi Collection and Tomodachi Life that can be used to make a random food. It also appears in Miitopia as a weapon of choice for the Chef class.
Tomodachi Collection

"I'm going to cook up something delicious."

— Mii, Tomodachi Collection
Frying pans are first utilized in Tomodachi Collection. Upon receiving the frying pan, the Mii will utter that they will cook up something delicious, before showing the Mii, wearing an apron in a kitchen, using the frying pan. When finished, the Mii tastes the food and looks off to the side, and the camera zooms in on a table as their food is revealed.
Tomodachi Life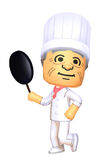 "I'm gonna cook up something tasty!"

— Mii, Tomodachi Life
Frying pans return in Tomodachi Life, functioning the same as its predecessor. No new changes have been made, other than the fact the cooking Mii will wear a chef's outfit instead of an apron.
Gallery
Tomodachi Collection
Tomodachi Life