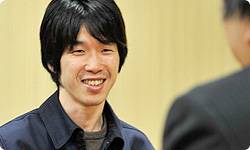 Rytaro Takahashi 
is an employee at Nintendo, and the director of the 
Tomodachi 
series as of 
Tomodachi Collection
. Besides the Tomodachi series, Takahashi is mostly known for his work in the WarioWare series of games as its director, and has worked for Nintendo's SPD division durring his time at Nintendo. As of 2015, he now works as part of Nintendo's EPD division, following the merging of Nintendo EAD and Nintendo SPD.
Credits
Ad blocker interference detected!
Wikia is a free-to-use site that makes money from advertising. We have a modified experience for viewers using ad blockers

Wikia is not accessible if you've made further modifications. Remove the custom ad blocker rule(s) and the page will load as expected.