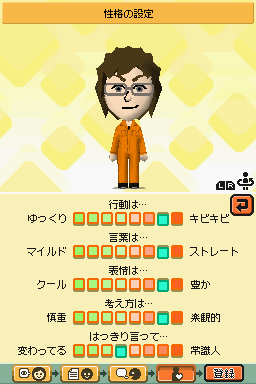 "Miis can also have different personalities. Some will get along better than others..."

— Tutorial, Tomodachi Life
A personality is a mechanic featured in the Tomodachi series that is used to determine how a Mii behaves in the game. The personality of a Mii is determined by a quiz taken in Mii Maker when the character is first created.
In the official website for Tomodachi Life, there is a personality quiz that people can take, regardless of if they have the game or not.
Tomodachi Collection
Personalities are first featured in Tomodachi Collection, featuring four categories: Calm, Cool, Fun, and Dry, with 4 sub-categories for each. Each personality play a role in interaction with other Miis. The different personalities of each Mii will determine:
How they act
Who they get along or do not get along with
Who they will have a successful relationship with
A Mii's idle and walking animation depends on what their personality is. For instance, Calm Miis will sway their arms in a straight motion, while Cool Miis will stand in a thinking pose. In addition, a Mii's starting interior and pose are affected by what personality they are.
For more details see the personality chart.
Tomodachi Life
Personalities are featured once again in Tomodachi Life, functioning the same way as its predecessor with little to no changes. The only major difference is all of the personalities are renamed in this game, such as Calm being renamed to Easygoing.
However, there are other things added to this game that are also determined by personality, such as the interior design and roof color of the house of a married couple. Additionally, when a baby is born, the color of their clothes is determined on the personality they are given, as well as the color of the starting clothes they gain after they grow up.
For more details see the personality chart.
Gallery